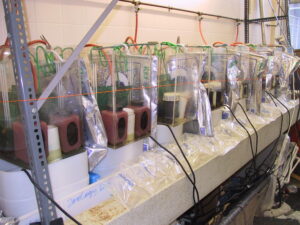 AQUENS provides a service of collection and analysis of water from spot measurements of critical parameters to a full analysis of all major ions, nutrients and organotoxins.
Chemical analyses are used to characterise the natural quality and production potential of water courses as well as detecting sources of pollution and evaluating potential impacts on aquatic life. The type of analyses carried out depends on the objectives of the projects. We can undertake analyses of the chemical composition of water, animal tissues and sediments taken from the bed of the river or lake. We offer 16 basic measurements for water which includes pH, oxygen content, BOD, COD, nutrient status and major cations and anions. Analyses for heavy metal (e.g. lead, zinc, cadmium and copper) content can be provided for water, animal tissues and sediment. Projects which are interested in potential bio-accumulation of pollutants in the aquatic food chains request the analyses of animal tissue, such as fish and invertertebrates. In fish the analyses are often carried out on a range of tissue types such as gill, liver, kidney and lateral muscle.
Our service includes collection of the samples from any location in Ireland, analyses and reporting. We have the expertise to provide an evaluation of the likely impact of the chemical conditions on the contained aquatic life.